Research
TO MEASURE IS
TO KNOW
The extensive and professional facilities and
knowledge available at The Green East can
add value for a start-up. The staff at The
Green East can provide support to start-ups
when carrying out research. For example, in
the daily tasks related to growing, by carrying
out related research or by building a test rig.
Laboratories
The Green East can offer start-ups many options when it comes to laboratories. A start-up that needs a lab a few times a week can use our shared laboratory. This lab is equipped with all the basic necessities, such as a flow cabinet, fume cupboard and personal protective equipment. In addition, we have laboratories for rent that can be equipped according to the needs of the start-up.
Test rigs
As a start-up, it can be helpful to be able to show customers what you are working on. You can do this with photos and videos, but a test rig near your office is the ideal solution. The Green East offers its tenants the option to set up indoor or outdoor test rigs.
Grow rooms
The Green East has grow/climate rooms available. These rooms are ideal for research that requires a conditioned environment. The humidity, full-spectrum lighting and temperature in the rooms can be adjusted and CO2 can be added. The size of the grow/climate rooms ranges from 13m2 to 19m2 and they can be rented with or without equipment.
Kitchen
The new build is fitted with a test kitchen. This kitchen is used to prepare innovative products. Start-ups can therefore easily transform raw materials from the lab into creative, tasty and innovative products.
It's the perfect place for fledgling food designers and start-ups in the food sector.
THE GREENHOUSE
The greenhouse on the property is equipped with several hydroponic systems. Hydroponics is a growing method which involves growing crops in water. One of the most important reasons to stop growing crops in the ground and instead grow them in water is that the growing medium of water is easier to monitor and condition.
Another major advantage of hydroponics is that growing takes place indoors in a conditioned greenhouse, meaning external factors have little influence on the growing process. For this reason, hydroponics can be used to continually grow crops in a conditioned environment all year round in a range of climates.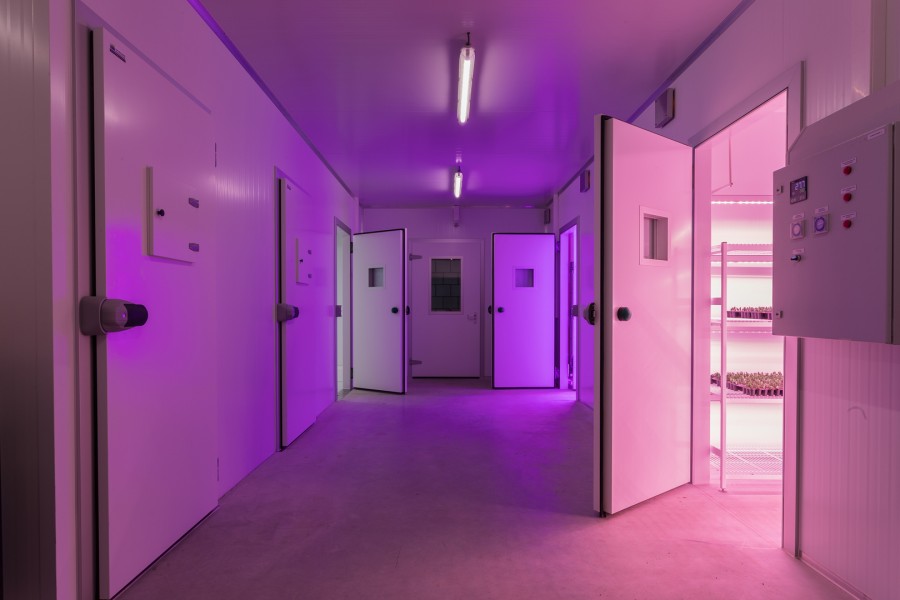 OUTDOOR TRIALS FIELDS
The six hectare site is being intensively developed and offers space for outdoor trials fields.
The outdoor trials fields are suitable for companies that want to combine indoor and outdoor research. For example, small-scale research in the grow rooms in tandem with outdoor growing. The outdoor trials fields at The Green East are suitable for various themes. Get in touch with us and we'll see what we can do for you.